York Medieval Walled City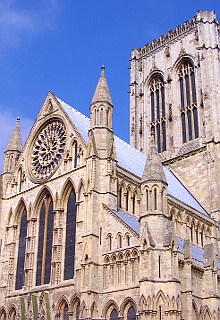 York Minster Cathedral
York Historic Medieval City Cathedral and Museums
York is a classic example of a medieval walled city, though it offers a lot more to visitors than meets the eye. Whilst it may be known for its quaint, village-like atmosphere today, York was once witness to a series of power struggles involving everyone from the Roman Empire to the Vikings. In fact, it was in York (then the capital of Britannia Inferior) that Constantine himself was crowned Emperor of Rome. The Vikings, however, wrestled for control of York several hundred years later until the city finally settled under the umbrella of a unified England 954. Today, York enjoys a decidedly less tumultuous existence that includes being one of the most tourist-friendly cities in the United Kingdom.
To get a better feel for York and its history, a trip to the Yorkshire Museum just outside the city's centre is highly recommended. Home to an enviable archeological collection that spans from prehistory through to Roman and medieval times, the museum provides a fascinating looks into the roots of York and Yorkshire. In addition to traditional exhibits, visitors can walk over an ancient Roman mosaic and enjoy modern video features providing insightful information about York's unique historical background.
If there was one sight to see in all of York, it would undoubtedly be the York Minster. Towering 60 metres over the cobbled streets below, it is York's most defining feature and one of the largest Gothic cathedrals in the world. The minster features exquisite examples of stained glass artwork along its lengthy nave. Of particular note is the glass located on the Great East Window. At 23 metres tall, this 15th century artefact is the largest piece of medieval stained glass in existence.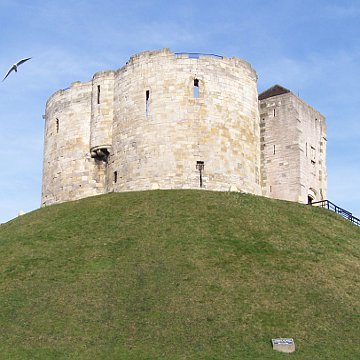 Clifford's Tower in York
Outside of York Minster, tourists will find themselves in the heart of medieval York. This centuries-old core of the city is still bound by stone walls and is a charming place to explore on foot or bicycle. Tucked away within the nooks and crannies of these medieval streets are charming tea shops, pubs and boutique stores. Several walking tours also traverse central York on a daily basis, with the night-time ghost tour as a tourist favourite.
Just south of the York Minster is a cluster of interesting historical attractions made up of Clifford's Tower and the Castle Museum. Situated along the River Ouse, the remains of Clifford's Tower stand as a testament to York's medieval roots. It was originally built by William the Conqueror and played a key role over the centuries in the fight for control over Northern England. In addition to its historical significance, the views from Clifford's Tower of the surrounding city, river and countryside are remarkable. As a bonus, the Castle Museum is located right next to the tower and housed within medieval prison buildings. York Castle Museum Prisons are famous for holding Dick Turpin and the last women that was burnt at the stake within the Yorkshire region. The museum also holds an extensive database of former prisoners, allowing visitors to look-up the names of family that may have once been incarcerated within the brutal prison walls in York. This cutting-edge museum boasts fully recreated Victorian street scenes in addition to a series of rotating special exhibits.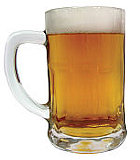 York's Festivals and Viking Settlement Past
Not forgetting its Viking past, the Jorvik Viking Centre allows visitors to stand and explore the remnants of York's old viking settlement, which dates back over 1000 years. The unique attractions incorporates thousands of Viking artefacts into a series of scenes and exhibits that illustrate how Viking settlers lived in the area more than 10 centuries ago. At the heart of the centre is a ride that takes visitors through the streets of ancient Jorvik, which have been recreated to stunning effect.
York has turned its unique past into an impressive collection of sights and attractions. Still retaining the feel of a bustling market town, it is also known as a city of festivals. Throughout the year, visiting tourists and residents take part in a laundry list of festive affairs including the Viking Festival, Festival of Angels, York Beer and Cider Festival and the Food and Drink Festival. Planning a visit to York around a particular festival will add another dimension to the experience, though the city is always full of festivities regardless of scheduled events.
Click Here to View & Book All York Apartments & Accommodation