The Village Festival 2015 Walthamstow
Published Date : Thursday 17th September 2015
Walthamstow welcomed back its village festival in 2014 last year, after a break of 14 years. The 2014 festival was a great success and we all hope this years event will be just as good, if not better. The day is organised by the local Asian Centre located in the Village, Waltham Forest. There are a number of other local businesses and parties which help to fund this event, which is expected to be very popular.
The idea of the festival is to bring local people together and celebrate the community as a whole. At the event, you can expect some great family fun without having to pay a penny. Arts and crafts feature heavily as well as other stalls, street food, entertainment and other attractions will all be found on the day, making it the perfect day out for individuals, couples, friends and families.
Head down to Walthamstow Village on Saturday 19th September 2015 to find the festival and join in with the activities and celebrities. It will run from 12 noon until 6pm.
To help things run smoothly throughout the day, Orford Road will be closed for the duration of the day. No vehicles will have access from the East Avenue junction up to the Ancient House. East Avenue will, however, remain open, but Vestry Road will also be closed all day.
Whether you are visiting the festival or you live in the local area and are worried about how these plans will affect you on the date, the council have released information regarding road closures and other important information for the day that can be found on the Waltham Forest Council website.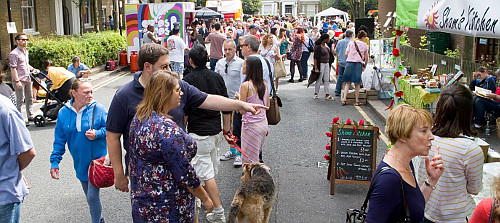 The Vestry Road playground will welcome musical performances for everybody to enjoy, and those under the age of 18 will be able to participate in the Youth Talent show. A children's area will be provided in place of the car parking area near Trelawney Close, so the little ones can keep themselves occupied with fun activities throughout the day.
In the true spirit of the Village Festival 2015, community groups and local businesses are expected to participate in the event. This will include independent people running a stall on the day or businesses financially supporting the festival in other ways. The festival is run mainly with the help of volunteers, and any help is always appreciated.
Further information can be found at :

https://villagefestival.wordpress.com/