Mini Holland Cycling Scheme London
Published Date : Tuesday 29th September 2015
In a world where there is a fear of climate change, pollution and overspending, it's no wonder that the local councils and the governments are constantly looking for ways to cut down on emissions and create a cleaner and happier place. The Mini Holland Program has started in London, and aims to make various areas more like Holland – in other words, it wants to encourage more cycling and less driving.
Not only are bicycles much cheaper than cars and other forms of transport, such as buses and trains, it's also a great way to keep people healthier and save some space on the roads. Bicycles don't need fuel either, so there are no worries about emissions and fumes, not to mention the money the user will save on petrol costs.
The Mayor of London and Transport for London came up with the idea of having a competition for the boroughs of outer London. With £100 million set aside for this project, there were various towns which put in their bids. In the end, £30 million each was given to Walthamstow, Enfield and Kingston. Since Walthamstow is a major town centre, there is a lot of scope to change the way people use transport in this particular area. It is already an area which is home to many cyclists, so it provided a great starting point for the Mini Holland scheme. There is some protest to the scheme from local businesses as road closures to motor vehicles will alter the way goods are delivered to some areas and possibly prevent some customers from reaching businesses by car.
While some drivers have an issue with cyclists taking up the road space, causing chaos during large cycling events and slowing down the flow of traffic, there are a lot of benefits to increasing the number of cyclists in a particular area. Studies have shown that there are fewer health problems, less pollution and more money to spend on other things.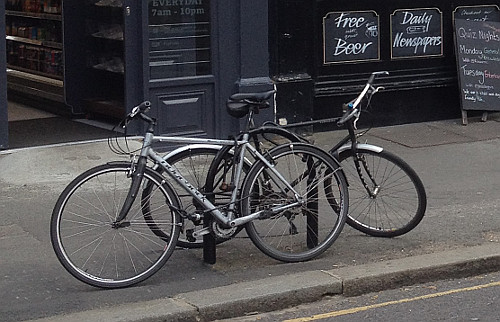 Mini Holland Bicycles in Orford Road, Walthamstow Village
However, in order to make Walthamstow a place where everybody feels that they are able to get on a bike and cycle from A to B, there are certain changes which must be made. First of all, a monthly family bike ride is organized. The participants meet at the Orford Road and Church Lane junction in Walthamstow Village at 1pm on the 2nd Sunday of each month, and families can brush up on their cycling skills, get to know the Walthamstow Village area better and enjoy quality time together.
Bike training sessions are also being arranged, which means that children and adults can become more confident when cycling on the roads. More bike lanes will be created so that residents feel safer on the roads alongside drivers, and more restrictive speed limits and bike routes will create a slower and safer environment for everybody.
Overall, the Mini Holland Program has not been created for the sole purpose of further benefiting people who are already keen cyclists. While this will definitely be a direct advantage of the scheme, it will also promote cycling as a means of transport and exercise, while being kinder to the environment and saving money all road. Quieter roads will mean that children and neighbours will feel safer playing outside or spending time in their gardens, and less exhaust fumes and emissions will create a healthier generation.