Passing Trade Art Exhibition by Eleanor Crow at Walthamstow Village Window Gallery
Published Date : Thursday 6th October 2016
An interesting art exhibition will take place in Walthamstow Village Window Gallery in Walthamstow Village from 7th October until 30th October 2016 titled 'Passing Trade' by Eleanor Crow. Featuring around 100 small watercolours that all depict shop fronts from the local Walthamstow area and around East London. Many of the store fronts depicted will be instantly recognisable if you are local to the area, and the art focuses on small independent traders and traditional small shops. The exhibition preview and opening will take place on the night of the 7th October outside the gallery in Walthamstow Village Square between 7pm – 9pm with drinks available to visitors.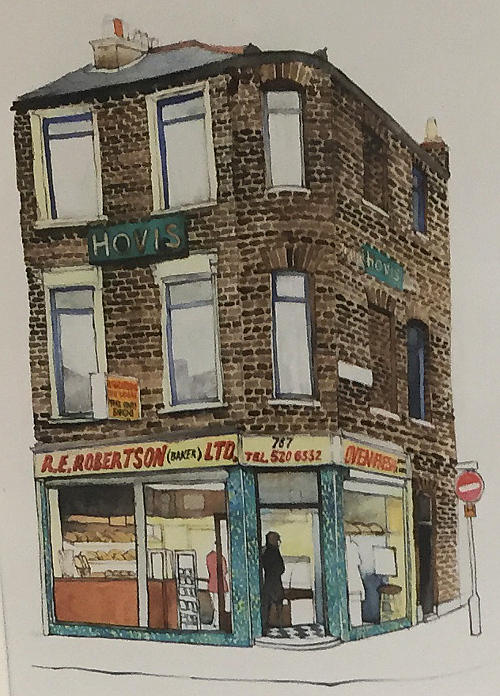 R E Robertsons Bakery Watercolour by Eleanor Crow
on local Lea Bridge Road (before recent changes to the facade).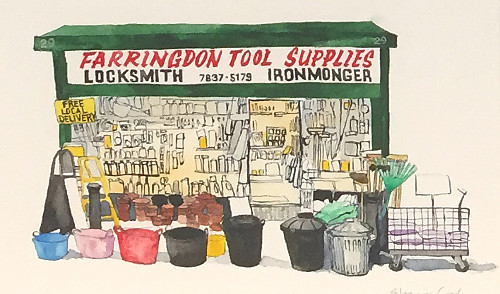 Watercolour by Eleanor Crow – Farringdon Tool Supplies
Eleanor Crow is primarily a book illustrator and has been featured in various magazines and books, including Étapes magazine Special East London edition, the London blog Its Nice That and Spitalfields Life blog. This collection of small watercolours shows the creativity the independent shops depicted have used to promote and showcase their own businesses. Some of the shops have changed or even closed down since these artworks were created, so these watercolours will act as a historical record to the various shops included in the collection.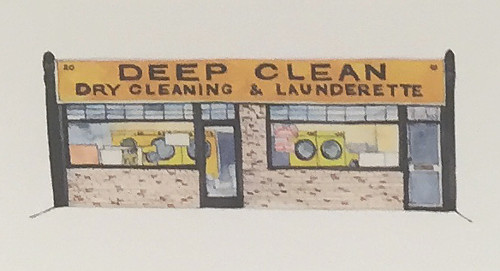 Local Walthamstow Village Deep Clean Laundrette Watercolour Picture by Eleanor Crow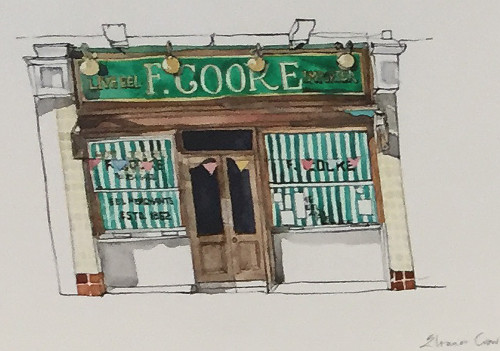 Pie, Mash and Eel Cafe F Cooke Watercolour by Eleanor Crow
WVWG Walthamstow Village Window Gallery is located in Walthamstow Village on the corner of Orford Road. The entire 'Passing Trade' collection by Eleanor Crow will be on show in the windows of WVWG for the period of the exhibition. So you may view the watercolours during the day but also in the evening, when the window display will be illuminated until midnight.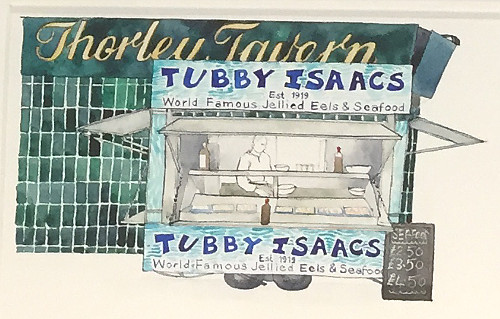 Tubby Isaacs Eeel Stall Watercolour Art by Eleanor Crow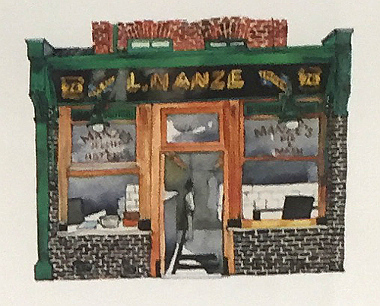 Manze Pie and Mash Shop down Walthamstow Market
in Watercolour - Art by Eleanor Crow
The pieces can be viewed at the WVWG gallery and viewed and purchased via the gallery website during the exhibition :
http://wvwg.co.uk

Further information about the artist Eleanor Crow and her work can be found at the artists website :
http://www.eleanorcrow.com