Manchester City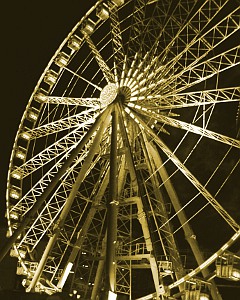 Giant Manchester Ferris Wheel.
Manchester is a sparkling jewel in the crown of Northern England thanks to a recent transformation that turned the city into a modern cosmopolitan marvel. More than just a town that is mad about its football, Manchester features world class museums, a stunning range of architecture and an active night scene. Visitors to the city will immediately see a striking contrast between old and new as they traverse its historic streets.
There's no better place to get an introduction into the new modern and eclectic Manchester than at Exchange Square. The unmistakable pedestrian area is marked by a giant ferris wheel which straddles the line between contemporary and Victorian buildings. Adjacent to the square is Manchester's beautiful 600 year old cathedral, which hosts guided tours 7 days a week. Also within the vicinity of Exchange Square is Manchester Arndale. It is the largest inner-city shopping complex in the UK and features around 250 shops in addition to various restaurants and cafes. To the West of the city centre you will find the Trafford Centre run by Intu Group, one of the largest shopping and leisure centres in Europe. Located in Dumplington the Trafford Centre has much more to offer than just being a massive indoor shopping area, with a large multiplex Cinema, restaurants, leisure activities and even Manchester's Sea Life Centre.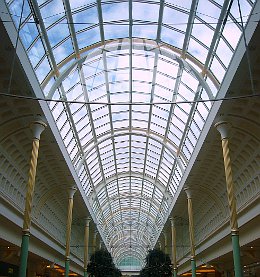 Intu Group's Trafford Centre, Manchester.
Further south from Exchange Square is Manchester's historic core. Here visitors will find the beautifully preserved Manchester Town Hall. Built in the Victorian era in a neo-Gothic style, it is open to visitors on weekdays. Highlights of a visit to this beautiful building include its great hall complete with original Victorian murals and its stunning sculpture room that features high arching ceilings. The structure stands at the centre of Albert Square, just behind a memorial to the prince, which has stood as the heart of Manchester for hundreds of years. In fact, many of the city's festivities and events are still held in the square, including New Year's Eve fireworks display.
Of course, no discussion of Manchester is complete without mentioning football. In addition to attending a Manchester United or Manchester City match and attending a stadium tour, true football fans can head to the brand new National Football Museum. Opened in 2012, the museum houses an incredible collection of football memorabilia and also provides insight into the history of the sport and how its popularity spread. One of the museum's highlights is its Football Plus feature, which lets visitors try their hand at various skilled challenges.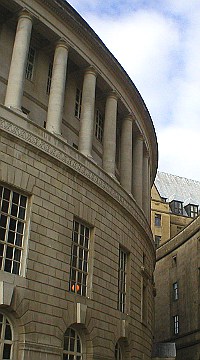 Central Library Building, Manchester
Whilst Manchester's centre consists of an eclectic mix of old and new, The Quays to its west show the city at its most sleek and most contemporary. A new development project is a destination all to itself and features a scenic promenade as well as shopping, museums and dining. The Lowry is The Quays's most notable building and is a multi-use centre home to a theatre show, exhibitions, restaurants and cafes. Another highlight of The Quays is Manchester's branch of the Imperial War Museum. Unlike its London counterpart, the museum is housed within a futuristic complex and includes a seven separate displays as its permanent collection along with a revolving set of temporary exhibitions and events.
Despite its dazzling new modern structures, Manchester has not forgotten its industrial roots. To preserve the memory of Manchester's manufacturing and industrial past, the city maintains a number of unique heritage sites. Once called the "Workshop of the World", Manchester's Ancoats neighbourhood is still home to many original mills and manufacturing plants. To get a more general overview of Manchester's history as an industrial capital, head over to The People's History Museum. The museum focuses on the history of working people in Britain and is housed within an old Edwardian-era pump house. A symbolic combination and old and new construction come together here to tell the tale of the British working class.
Manchester certainly has come a long way since its industrial roots in history and can now rival any other city in the world when it comes to culture and the arts. Visitors to this northern England destination now have access to incredible displays of architecture - old and new, as well as miles of shops, restaurants and an impressive list of museums.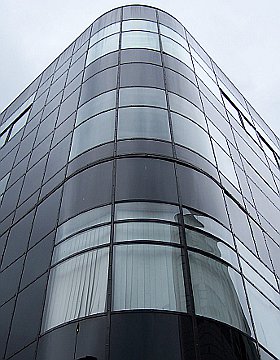 Click Here to View & Book All Manchester Apartments & Accommodation