The Mermaid Inn Rye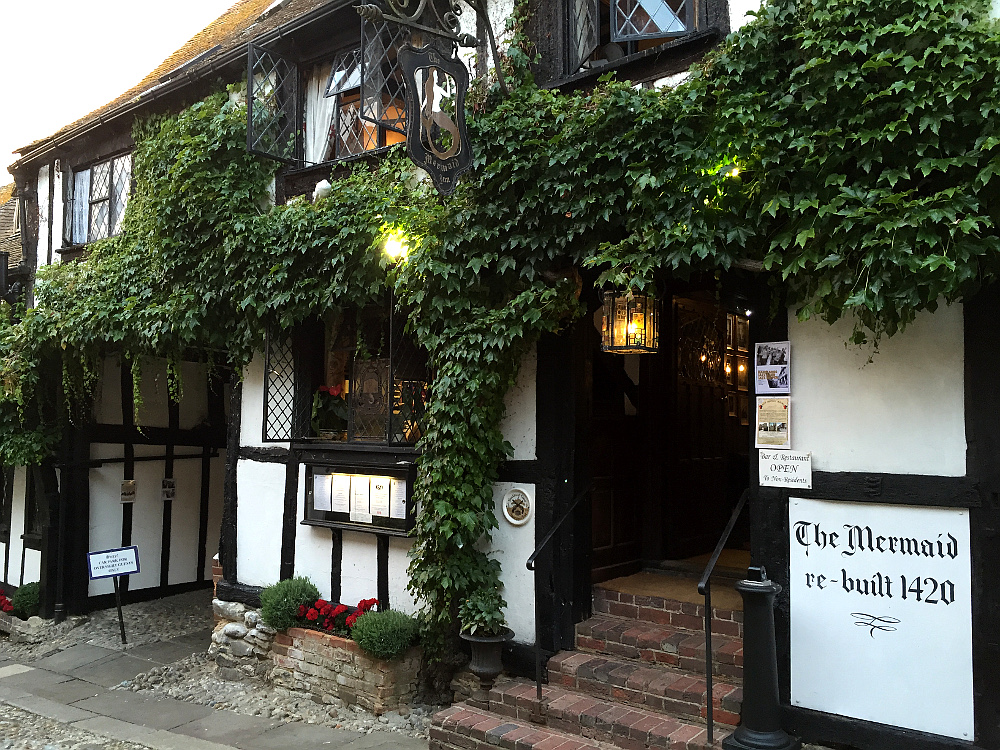 The Mermaid is a unique medieval smugglers coaching inn dating back to the 1400's with cellars that can be dated back hundreds of years even before that. Even as you approach the Hotel and Restaurant from the cobbled steep narrow Mermaid Street you will feel as though you are going back in time. Reports of ghostly sightings have been made by visitors and many of the rooms are reported to be haunted. The Inn boasts many traditional features in the 31 rooms and its rich in history is evident in every nook and cranny of the medieval building. The bar offers a wide selection of local Ales, Wines and Spirits and you can relax in front of the Giants Fireplace (with a roaring fire to warm you in the Winter months). A superb Menu is on offer and you can enjoy your meals in the Gothic panelled restaurant (including a Breakfast offering). There are two lounges to relax and enjoy the atmosphere of the hotel including one that looks out onto the cobbles of Mermaid Street. There is a private carpark for guests (which is a real bonus amongst the narrow cobbled streets of Rye) accessed via an archway from Mermaid Street or a rear entrance that opens onto The Mint road. Breakfast is included with all room bookings and the option of adding dinner to your booking is available on arrival.
Rooms at The Mermaid Rye
Each room is different but they all retain the traditional style and features that make The Mermaid so unique. From the narrow stairwells, sloping exposed Oak beams and Gothic panelled walls you will begin to experience the real feel of this old smugglers retreat as soon as you climb the stairs to your room. Many rooms have four poster beds with ornate carving, leaded windows, traditional fireplaces and some rooms even have secret doors and passageways. Every room has its own name that relates to its past use or a guest that may have stayed in that specific room, and some even are reported to have resident ghostly spirits that may visit that particular room.
The Crows Nest : Being an upper room thats window overlooks Mermaid Street this room was used by smugglers to keep an eye out for anyone approaching the inn.
The Nutcracker : Another room in the top of the building with low exposed beams (mind your head) and used by The Hawkhurst smugglers gang. This room has windows looking out to Mermaid Passage and the rear of the Inn and used to have a secret escape route (that is no longer accessible and located in the bathroom). A ghostly figure of a woman is said to appear in this room and the other upper areas, purported to be a young woman that was killed by the gang of smugglers.
The Kingsmill : Named after one of the leaders of The Hawkhurst Gang Thomas Kingsmill who was hanged to death in chains nearby. This room has two secret passages to other parts of the Inn (that have since been sealed up). This room used to house a rocking chair that was said to begin rocking on its own during the night (the rocking chair has since been removed to prevent it scaring the guests).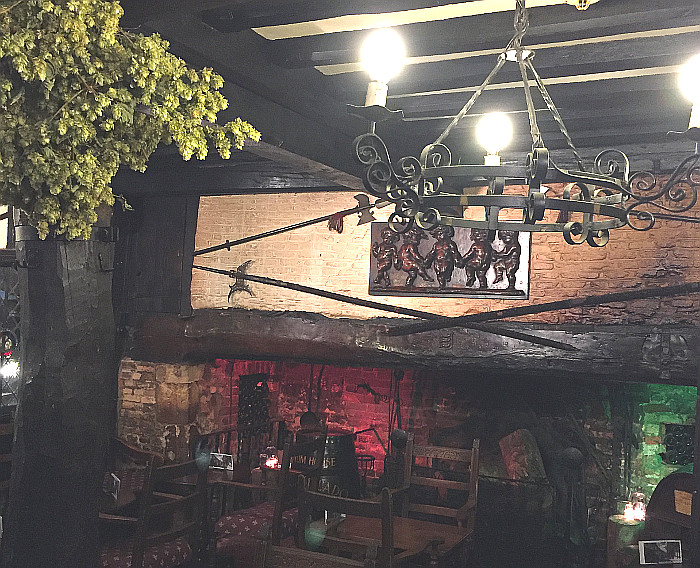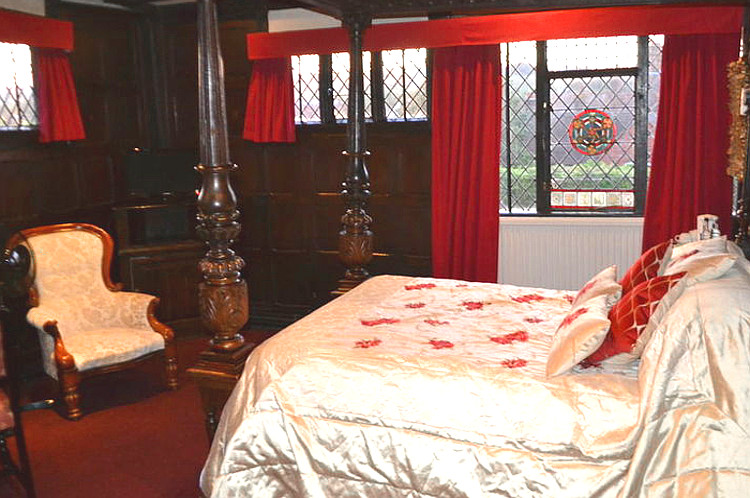 Facilities at The Mermaid Inn Rye
Giants Fireplace Bar
Bar Menu
Excellent Restaurant
Medieval building bathed in History
Outside Patio and Terrace for Food or Drink
Themed Uniquely Named Rooms
Real Local Ales
Great selection of Wines, Champagne and Spirits
Famous for Ghost Stories
Some Rooms said to be Haunted
Four Poster Beds
Breakfast, Lunch and Dinner Menus
Breakfast included with Room
Private Carpark on Hotel site in Rye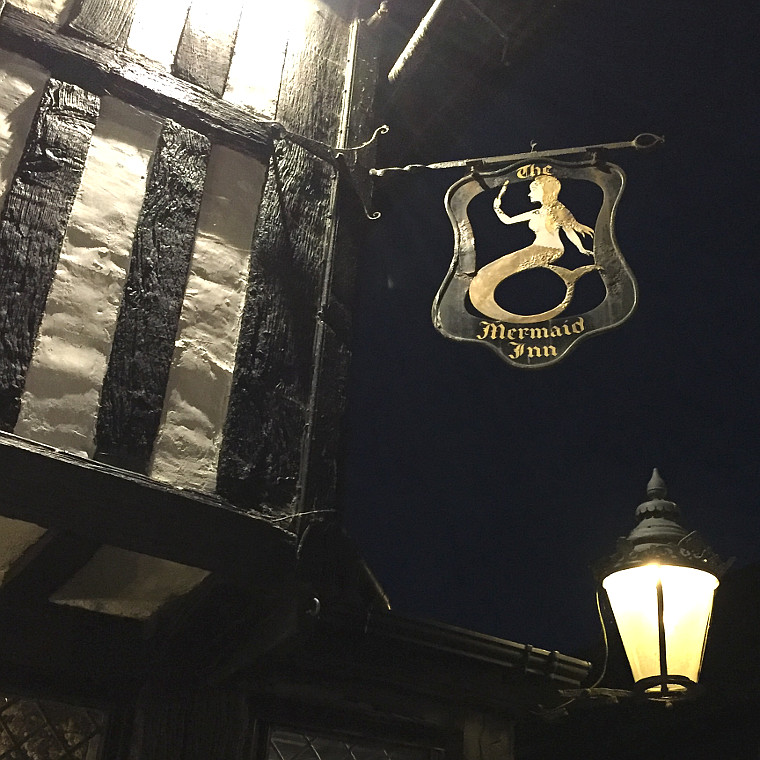 Accommodation
Each Room is Unique
Single, Double, Twin and Family Rooms
Bed and Breakfast included
Guest use of Private Carpark
Some Rooms include Four Poster Beds
Private Bathrooms
Haunted Ghost Stories with some Rooms
Traditional Oak Beams and Wooden Floorboards
The Local Rye Area
The ancient town of Rye is an ideal place to visit with its winding cobbled streets, antique shops, tearooms, museums and medieval architecture. One of the most famous streets in Rye is Mermaid Street, a steep cobbled street winding up the hill flanked by a mishmash of medieval, Tudor and Georgian buildings. At the top of the hill you will find Lamb House which is a Georgian House with a walled garden open to the public and run by the National Trust. Further around after you walk past the old gravestones through the courtyard of the 12th century Parish Church of St. Marys you will reach Ypres Tower museum and Gun Garden.